So I know that my two readers are

uber

-interested in what page turner I am currently turning the pages of. Well have no fear I shall inform you. I have a thing for The Harry Potter books...like so many out there. I have a ritual that every summer I re-read the entire series because, well, they just make me happy! It takes my mind off the year long crazy-fest at college and just allows my brain to take a breather. I thank J.K Rowling for her amazing series...really that woman is the bomb.com!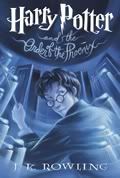 As of right now I am about ten pages from wrapping up book

numero

5 'Harry Potter and the Order of the Phoenix; and will shortly be digging into book

numero

6 'Harry Potter and the Half-Blood Prince'!



So folks...what are YOU reading? Do you love the HP series? If not what are some favorites that you have? Peace, Love, and Harry Potter to all...