Happy Monday blog-land...ok, yes, whatever, it's Monday and it sucks but hey that is life my friends!
So as you can see I did NOT melt into a puddle this weekend. It was not quite as hot as I thought it was going to be...yes, 'tis true...sometimes I error on the side of the dramatic...but only occasionally!
All in all the weekend was a pretty darn good one...minus the headache that started Friday and STILL is making my head throb, other than that my weekend was golden!
Friday I wrapped up the school week and came home and finally finished 'The Vampire Diaries' (sidenote: for the best Vamp Diaries recap...check out

Busy Bee Lauren

it is hilar! And I almost like it better than the actual show...plus she is famous, Logan Nietzel from Project Runway tweeted her...yeah awesome!)

The books were okay...no 'Twilight' but still aight!
On Saturday I hung out with the loveo'mylife niece who is a riot and a half!
and yes, those are flamingos on her shoes, or better yet as she calls them her 'mamingo shoes' uh-huh she rocks at life...



Then my lovely brother Jonathan and his even-lovelier girlfriend Christina took my mother, niece, and myself out to eat at one of those super fun hibachi girl (okay so I totes meant to write 'Hibachi GRILL' but I wrote girl and I am leaving it because it made me chuckle!) places where they cook your food right at the table and do all that crazy, flippy,choppy, throwing food business...it was a blast. The food was super yummy, and the chef was pretty entertaining (minus the part where he lit the ENTIRE grill on fire without warning and my niece literally crawled up my brothers ENTIRE body and Christina and I both almost threw our necks out when we thought our faces had caught on fire!)
I bet right now you are all wondering where all the pictures from this great meal are...yep well I am a bad-blogger (feel free to smack me on the hand) and I left my camera all alone at home...yep epic blog fail!
After stuffing our faces...we all decided that ice cream sounded like a great idea. We went downtown which of course led to me and Bastina sprinting across the street to go shopping. Yeah that is right...we went shopping and THEN got gelato...uh huh shopping first, gelato second we have our priorities ok?!
Sunday wasn't that much fun...but was quite productive...I did ALL of my laundry, ALL of my homework, and caught up on season 3 of Dexter...Micheal C. Hall is foxy...he is a total dime piece (a ten...get it?! Ha!)...yet he still didn't get an Emmy...bummer.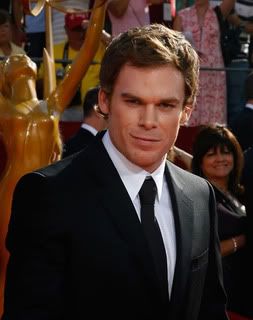 Since I failed with the pictures of the goings-on of my weekend I will try to make up for it...
this is the lovely brother who took us out and fed us...love him for that...don't love him for the lack of oxygen I was receiving in this photo...and the red face it caused...
this is another photo of the big brother with my niece...playing Guitar Hero...yep it isn't a family Christmas if Guitar Hero isn't around...and yes he is gangsta'...
a fun fact about this brother...for some reason no one in our family pronounces his name correctly. his name is Jonathan...and for some reason we ALL pronounce it Jon-than...i never realized this until someone pointed it out to me...odd.
this is my brothers girlfriend. this is also one of my favorite pictures 'eva. yep she is crazy...yep she fits in the family well...also from here on out any mention of her she will be called Bastina...because that is what we call her. actually it is Bastina Balicious. Bastina came from my nieces' inability to pronounce her name...and Balicious came after WAY too many hours of us all in a car driving to Disneyland...

since I absolutely LOVE posting embarrassing pictures of people on here...I also like to counteract them with a good picture...so then my friends and family members don't want to throw down the next time I see them...your welcome Bastina!
awww...cute Jon-than and Bastina...thanks for the yummy food guys! (Oh and Bastina...hopefully you are reading this...we need to go back to Artifax...I want that purse!!)
Yep...pretty good weekend...and I am completely enticed to sign off with my lamespice Gossip Girl joke...but I will resist for everyone's sanity...oh and don't forget...WATCH 'The Vampire Diaries' on Thursday and then go and read Busy Bee Lauren's recap...and then come back here and thank me...